Jazz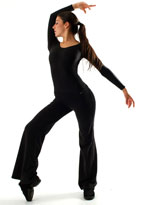 Jazz dance is frequently influenced by other dance styles such as ballet, contemporary, lyrical, and hip-hop. In turn, many other dance styles are influenced by jazz dance. As in most forms of dance, technique is the foundation for all modern jazz dance movement. In particular, jazz dancers benefit from a sound working knowledge of ballet technique and, consequently, jazz dance curriculum commonly includes ballet training. Dancers who have mastered jazz dance technique are free to focus on the stylistic and performance aspects of dance.

Street Jazz

Street Jazz is a new hybrid dance of jazz essential combined with raw hip hop. This trashy style of jazz requires both stylish and functional footwear for all the turns, jumps and tremendous level changes a dancer will experience when taking a street jazz class or learning a new routine. Taking much of its style from hip-hop culture, street jazz is often practiced and performed in comfortable baggy pants and sneakers. This accommodates well to the body level changes and constant bent knees. Very rarely will one find a high kick or a straight-legged grande jette in a street jazz routine.

Lyrical Jazz

Lyrical jazz dance refers to the unique style of jazz dance that expresses emotional sentiment through the use of the balletic line as a counterbalance to the percussive features of conventional jazz dance. Its rhythmic movements use the entire body, extending the body line and avoiding sharp, stationary, angular movements. Redirecting the emphasis quality of the movement encourages the articulation of creativity and the conscious use of movement to express ideas, feelings, and emotions.